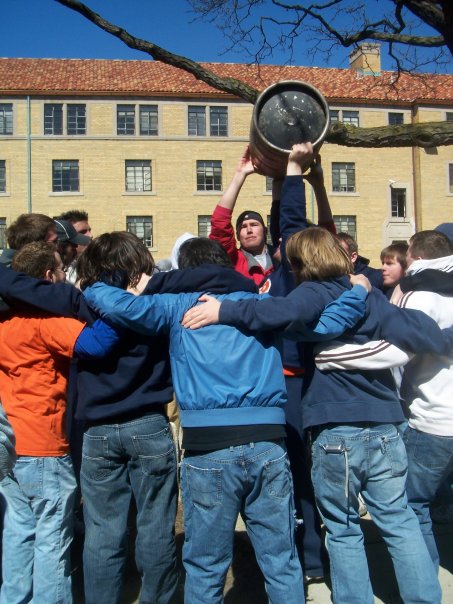 Consul - Anthony DiLoreto
Senior Tribune - Alex Gallegos
Junior Tribune - Mark Fazi
Praetor - Rory Dorow
Quaestor - Doug Biske
Risk Manager - Dan Meyering
Propraetor - Graham Greenland/Patrick Andridge
Pontifex - Rob DeCoste
Centurion - Dave Hoppe
Historian - Doug Sollman
Following the previous semesters 13 new brothers, K?P gave out 3 bids, and gained two pledges. Joe Colombo accepted his outstanding bid, and Alex Repeck also accepted his bid. Winter Rush included trips to Xochi's, BW3's, the Detroit International Auto Show and Movie Night at the K?P House. On March 24th, both men became pledges of K?P.
With the successful completion of pledging, and two more members, K?P prepared to dominate Greek Week. However, early indications did not bode well for the brothers. Suffering loses in Human Pyramid, the Obstacle Course, Pie Eating, Trivia Pong, and Pool, with Sigma Pi in a commanding lead. But the brothers came back. With a powerful winning streak covering Basketball, Dodge ball, undefeated in Volleyball, and winning the Keg Toss for the first time ever, the Brothers showed that they were not to be counted out. Going into the final day of competition, the Brothers continued their winning streak when the 1-Ton Tug Team crushed the other fraternities in the Tug of War, and then went on to win the Chug competition.
With preparations for Air Band complete, the brothers were eager to continue their 6 games winning streak and end Greek Week in victory with their Willy Wonka themed Air Band. With the final event just hours away, K?P was in a close second to Sigma Pi, and Air Band would tip the scales and seal victory for either house. There were first-rate performances from Nick Bernardi in the role of Willy Wonka, and David Powell as the destitute Charlie Bucket, along with a terrific showing by the brothers portraying the other children. With references to Freddie Mercury, 50 Cent, and choreographed Oompa Loompa's that would make Gene Wilder proud, the brothers performed to the best of their abilities. When the final scores were in, K?P claimed second place, with a nearly tied score.
Following the tragedy at Virginia Tech, K?P painted a rock in remembrance of those affected.
The Red Rose Formal was held April 13th at Sinbad's. The Alumni Corporation chose a theme honoring the class of 2002 on their 5 year anniversary. Kevin DeGrood announced the formation of a K?P Scholarship to be awarded to an active brother for academic achievement. Also,, and Erin Conroy was named a Sweetheart.
Working with the Detroit Blight Busters, the brothers of K?P assisted their community by demolishing a crack house next to a church. To help the homeless of Detroit, the brothers worked with Sandwich Bus, making Peanut Butter and Jelly Sandwiches and distributing them throughout the city. Continuing its fundraising efforts with the Tigers, the Brothers also worked concessions at Comerica Park during the summer, as well as the Lions during the fall.
As a way to keep the brothers close during the summer months, the K?P House hosted weekly Barbeques for actives, alumni, and friends. Horse shoes and hamburgers, with music and hot dogs combined to help the summer pass by.
The William's Leadership Academy ended on a high note as Alpha Gamma came back from the 96th National Convention with 6 awards. In the end, Alpha Gamma had the most overall awards of any chapter, and still remains in the top three of all K?P chapters. The awards include the following
Dr. Harold Osborn Award (Intramural Sports) - 1st Place
Gino A. Ratti Award (Alumni Relations) - 2nd Place
George E. Kimball Award (Social Service) - 3rd Place
George E. Shaw Award (Public Relations) - 3rd Place
GPA Above All Men's Average
Recruitment Award
Going into the fall semester, the brothers reflected on the events of the previous semester, and set out to improve themselves in all areas. Consul Anthony DiLoreto created what he believed to be the goals and expectations every brother should strive to achieve. The need for a faculty advisor who could work closer with the active chapter was sorely felt; therefore Dr. Benvenuto was approached and approved as the newest Faculty Advisor. David Powell accepted his nomination to be the newest Alumni Advisor as well, while Andrew Biske stepped down as his marriage soon approached.
The brothers started the year's service off quickly; working to help a member of the UDM community with much need landscaping work. At the end of RUSH, 9 bids were given with 6 men accepting. An 80's themed mixer with the sisters of kappa beta gamma was a great time for all involved, with many memorable stories. Service events for the semester included multiple jobs with the Greening of Detroit. The brothers also continued their yearly efforts working on Angels Night to patrol the city of Detroit with the new pledges. A Donation oriented party was chosen by the pledge class to be co-sponsored by APO.
With the conclusion of pledging, 5 new brothers of K?P were crossed on November 30th. Following Cross-over, a Rubik's cube mixer with Sigma Sigma Sigma was held.