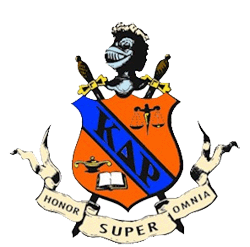 Ever since graduating from college, Frank Hattula, alumnus of Indiana University (Nu chapter), wanted to start a new chapter of Kappa Delta Rho. As Frank began his professional career, working at different colleges and universities, he saw no real prospect of beginning a new chapter until he came to the University of Detroit Mercy. In the fall of 1997, when Frank was the ARD of Shiple Hall at UDM, he began his pursuit of starting a new chapter of Kappa Delta Rho.

Frank began his quest simply by posting flyers up around campus that were about starting a new fraternity. The first person to respond to the flyer postings was Charles Pankratz II. Chuck was a member of Alpha Phi Omega, a service fraternity, but wanted to be a part of a social fraternity that was not all about drinking and hazing like the existing fraternities at UDM. On Wednesday, October 15, 1997, Frank and Chuck sat down and talked for the first time about starting up a new fraternity at UDM. Next to respond to Frank's postings was Jessie Hart, also known as J Hart. Then on October 24th, Frank, Chuck, and Jessie met at Bankok Café to talk about what they did and did not like about fraternities. While there, Chuck said he wanted "guys who occasionally have fun, and can kick back [and relax] from time to time."

During the first week of November 1997, KDR Brothers from the University of Toledo (Pi Alpha chapter) as well as Executive Director Shawn Hoke visited UDM to hold a couple of informational meetings about Kappa Delta Rho. Dan Palazzolo attended the second informational and decided to join. The Tuesday night following the informational meetings, the first three members of Kappa Delta Rho; Chuck, J Hart, and Dan, held elections. Chuck became president, Dan became vice-president, and J Hart became secretary and treasurer. Soon after the elections were held, Chuck, Dan, and J Hart sent in a letter to the Kappa Delta Rho national office requesting to become a KDR Group of Intent.

After the letter was sent, the three gentlemen began a recruiting effort to bring more men into the group. Chuck first talked to Richard Haefner, who was skeptical at first, but liked what Chuck told him about KDR. Then, Chuck approached Nick Erber, whom he met in Chemistry, about joining Kappa Delta Rho. Later, at the second floor of the UDM Student Union Building, Frank, Chuck, Dan, and J Hart made flyers promoting KDR. Frank made a flyer with a chef's hat saying, "Serving up a new fraternity."